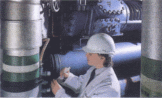 Customer Support
We provide quality water treatment equipment and chemicals, with a commitment to back up and after-sales service.
Equipment
We provide:
Industrial and commercial water softeners

Industrial demineralisation plant

Industrial and commercial reverse osmosis systems
We are approved representatives for Kinetico Industrial Water Systems
Water Treatment Chemicals
We provide for:
Steam raising boilers

Evaporative cooling water systems

Chilled water systems

Heating systems

Sanitising/descaling agents
Other products
We provide:
Legionella control test kits

Boiler water test kits

Cooling water test kits

Chemical dosing pumps

Domestic water softeners*
* Our sister company, Watercare Softeners Ltd, are the UK's No. 1 dealer for the Kinetico range of water softeners and drinking water systems for the home.